Small Treat: Volume 9 ToC preview
Small Treat: Volume 9 ToC preview
Nov 07
Hi, I know you're all patiently waiting, but unfortunately, nobody has uploaded actual scans yet. (I did go ahead and buy the Japanese eBook for my Android Kindle, however.) Thanks for your patience. In the meantime, I know it's not much, but here's a preview of the Table of Contents page (screenshot, edited), to let you know what's on the horizon!
Description from the Haruhi Wiki (I put it there myself. Hope it's right?):
Via confession, Kyon and Nagato are officially dating. In order to make lunch boxes for him, she takes lessons from Asakura, all while fretting over her first Valentine's Day as a couple with Kyon. The Vanishing Nagato romantic comedy, limit up*!?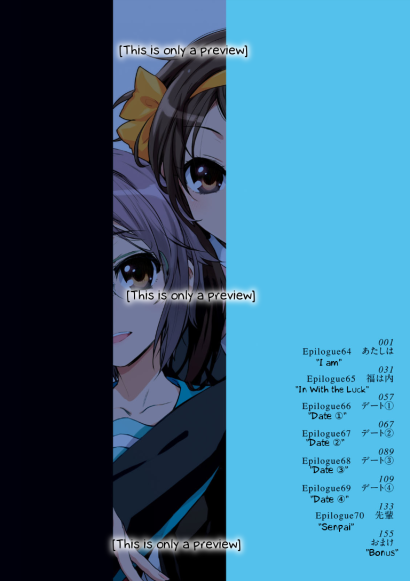 *It literally says "limit up" like in economics (ストップ高). Whatever the analogy is, it's lost on me. Maybe I'll think about it more later and it will make sense.