Japanese fans pick their favorite Kyoto Animation anime
Nov 17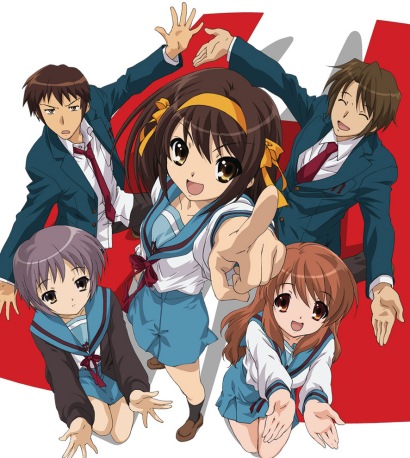 Biglobe loves polls. This time it was about the favorite Kyoto Animation anime, and The Melancholy of Suzumiya Haruhi got the 5th place. The series is still strong!!
This is the ranking and the votes for each series.
1. Hyouka (516)
2. Clannad ~After Story~ (465)
3. K-On!! (387)
4. K-On! (384)
5. The Melancholy of Haruhi Suzumiya (333)
6. Clannad (310)
7. Chunibyo Demo Koi ga Shitai! (251)
8. My Ordinary Life (237)
9. Air (213)
10. Lucky Star (200 votes)
11. Kanon (165 votes)
12. Full Metal Panic? Fumoffu (148)
13. Full Metal Panic! The Second Raid (114)
14. Sora wo Miageru Shoujo no Hitomi ni Utsuru Sekai. (43)
I can't believe that crap called Air was ranked better than the awesome series Kanon or Fumoffu. At least Haruhi is still in a good position. Inspecting the list, some series are just the second season, so the real winner would be Clannad, second place would be K-on, third place Hyouka and fourth place our Haruhi. That makes much better sense, don't you think?
Source: CrunchyRoll, Biglobe
Moe Day: Nagato Yuki voted 18th place
Oct 15
Apparently October 10th was declared as the Moe Day cause the kanjis for October 10 (十日十月) look like the kanji for Moe (萌). Biglobe selected that date to close out a poll to select the cutest character, and Nagato Yuki got the 18th place, Suzumiya Haruhi was 23th, and Kyon's sister was 40th. As incredible as it may be, the über-moe Asahina Mikuru was ignored!! There's no justice in this word.
Sources: crunchyroll, biglobe
Nagato Yuki voted best pettanko anime girl
May 20
Biglobe users have spoken and they can't be wrong! After a poll where 7,399 users casted their votes, Nagato Yuki was chosen as their favorite pettanko (flat-chested) anime girl. Oh, well, uncurvaceous appeal is better than no appeal at all, right? In any case, we already knew how sexy Yuki is, and for now, Biglobe's queen is Nagato Yuki.