The Vanishing of Nagato Yuki-chan: ch. 51
The Vanishing of Nagato Yuki-chan: ch. 51
Jul 16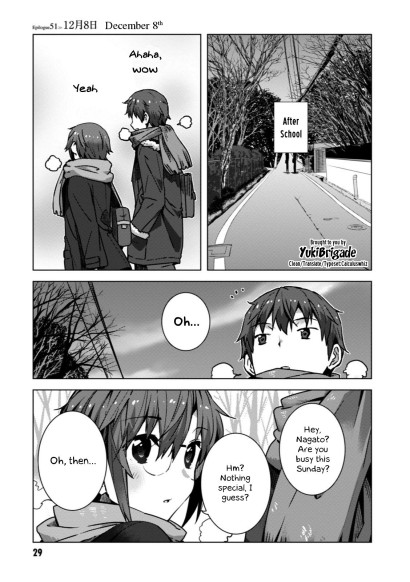 Scanlation Team
: YukiBrigade
Translation: Calculuswhiz
Cleaning: Calculuswhiz
Typesetting: Calculuswhiz
Publication: The Vanishing of Nagato Yuki-chan Volume 7 [Kadokawa Comics A]
Yup, you guessed it. Another chapter. Kyon wants to do something with Yuki on Sunday? What could it be?
I hate cleaning  x_x  It takes so long to do, but I spend all day on it anyway. There's a lot of non-black-on-white text in this volume… I hope I don't burn out. (But there's a really good part coming up in a few chapters, and I want to get to it.)
Which brings me to my next issue:  I think it's time I looked for a teammate. Specifically for cleaning. So…
Potential cleaner job description:
Knows his/her way around GIMP or Photoshop. (Preferably GIMP, but I can open .psd files.)
Removing text and redrawing backgrounds will be your primary job. You do not have to be totally perfect. Remember that text with a 3-px outline will go over these parts anyway. However, I expect good quality work. If it's too difficult, you can let me know, and we'll figure something out.
Works quickly. Ideally, <24 hours per assignment. I reserve the right to pre-empt you if you work too slowly. I will not wait. Work will be split as I see fit. I also reserve the right to let you go if you don't do a good job.
Your term will end when volume 8 is completed, as we'll have to wait for volume 9 to be released. However, you will be considered first when that happens.
Will not have to take care of leveling, black-on-white text removal, or error-splotches. I can do that.
As you know, this is a non-profit free group. Obviously, you won't be paid.
Terms subject to change.
If this sounds like you, please leave a comment using your primary email address. I can see your email address in my control panel, so please don't post it in public. I don't want you to get spammed.